Fostering Teamwork in a Corporate Setting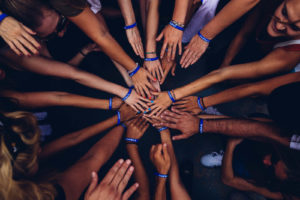 How many times a day are you interacting with others to get your job done? To reach your goals? In a 24/7 global workplace, the skills needed to work with others are the skills needed to succeed. Whether leading a team or working with or through others, the skills you will gain in the Working with Others Workshop Series can help you get the most out of your work relationships, create engagement, and allow you to foster a culture that encourages teamwork and productivity.
"TEAM — Together Everyone Achieves More."
True collaboration is not easy to achieve, but there are tactics we can use to help us get there. Learn from the executive coaches at Aleman & Associates how to employ those tactics.
Conflict — There's more in it than the "bad"
Conflict doesn't have to be all bad — it can re-energize a relationship and challenge us to break through into new thinking paths. Learn how to use conflict in the workplace to your advantage from Aleman & Associates!
Managing Up is as important as managing your team. Positive relationships with your bosses and clients will help you and your team build success. Learn how to manage different personalities to create the best possible environment for your team–and yourself–to grow professionally.
We can improve our impact on our team by understanding the type of team players we are — how we can leverage our strengths for the benefit of the team, and manage our idiosyncrasies so we don't drive the team crazy. Improving how you work with others isn't just about managing the personalities of others–it's about working on yourself.
Successful negotiators are assertive and look at everything — they know that everything is negotiable. This is negotiation consciousness. Learn how to be assertive without being perceived as pushy.
It is the little things that make a big impact that are important in building a strong customer connection.
When you don't have the title…
When working on a project for which you have the responsibility but not the authority to make things happen, it can get dicey. Taking charge is easy on paper, but a bit more challenging in reality. Learn how to walk the line and come out on top.
Whether learning how to outmaneuver the competition, understanding what clients really want or vying for that plum job, networking is a powerful tool that can help you reach your goals.